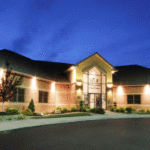 Address
15 Apex Dr.
Highland, IL 62249
Phone: 618-651-0444
Fax: 618-651-9225
See map:
Google Maps
Services
Aquatic Therapy
ApexNetwork Aquatic Therapy presents the opportunity for you to experience physical therapy in a relatively "low- or no-impact" environment.
Fitness Centers
To reach one's full health potential, one needs to keep their body in sound shape. That's why at ApexNetwork Physical Therapy, we offer state-of-the-art fitness centers for our patients to use. Read more.
Hand, Upper Extremity + Occupational Therapy
We have certified hand and occupational therapists that offer thorough rehabilitation services to maximize your healing.
Industrial Rehabilitation
We have a strong staffing of industrial specialists that offer unparalleled preventative programs and remarkable care for those suffering from work-related injuries.
Physical Therapy + Sports Rehabilitation
We have advanced capabilities in orthopedic manual therapy, strength and conditioning, and rehabilitation.
Voted #1 In Town for Best Company to Work 2018 - Highland News Leader's The Choice Is Yours
Bilingual Clinic