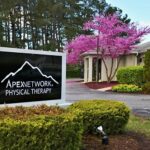 Address
200 Leaksville Road
Luray, VA 22835
Phone: 540-743-0502
Fax: 540-743-1525
Email: lurayva@apexnetworkpt.com
See map:
Google Maps
Services
Aquatic Therapy
ApexNetwork Aquatic Therapy presents the opportunity for you to experience physical therapy in a relatively "low- or no-impact" environment.
Industrial Rehabilitation
We have a strong staffing of industrial specialists that offer unparalleled preventative programs and remarkable care for those suffering from work-related injuries.
Physical Therapy + Sports Rehabilitation
We have advanced capabilities in orthopedic manual therapy, strength and conditioning, and rehabilitation.
Occupational Therapy
Occupational therapy focuses on activities of daily living. Our therapist will work on strength, balance, coordination, and functional activities to help you regain your independence and improve your quality of life. In addition to helping with activities of daily living, our therapists can also assist with return to work activities, hobbies, and other functional tasks.
*This ApexNetwork location is independently owned and operated.
Testimonials
"The heated pool has made such a difference with my arthritis pain. I feel like a different person after my pool exercise." - Mike T. Luray
"I always tell people that Excel Therapy (now ApexNetwork Physical Therapy) is a hidden gem in Luray. It's so convenient to have the heated pool and outpatient therapy in our backyard." - Sheila C.
"The therapy at Excel (now ApexNetwork Physical Therapy) made a big difference in what I am able to do with my arm. Thanks again for all your help." - BK Stanley