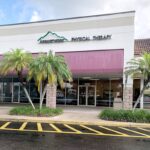 14899 Tamiami Trail
North Port FL 34287
Services
Free Injury Screens
Whether you need some home exercises, a round of physical therapy or a referral to an orthopedic specialist, our caring staff will help get you pointed in the right direction. The best part is, the screen is free.
Physical Therapy + Sports Rehabilitation
We have advanced capabilities in orthopedic manual therapy, strength and conditioning, and rehabilitation.
Manual Therapy + Hand Therapy
We use manual methods as well as understand the importance of your hands and the relevance of the role that they play in your everyday life.
Industrial Rehabilitation
We have a strong staffing of industrial specialists that offer unparalleled preventative programs and remarkable care for those suffering from work-related injuries.
Vestibular Rehabilitation
We offer the full spectrum of Vestibular Rehabilitation including Fall Prevention, Specialized Treatment and Baseline Testing Programs.
Specialty Services
Cold Laser Treatment, Sequential Pneumatic Compression, Grastin, Kinesiotaping, Work Hardening, Work Conditioning, Functional Capacity Evaluations, Iontophoresis, Phonophoresis, Electrocial Stimulation, and Ultrasounds. To learn how these specialty services can help you, please call the clinic.