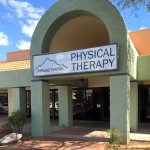 Address
2151 S. Highway 92, Suite 106
Sierra Vista, AZ 85635
Phone: 520-335-1615
Fax: 520-335-1623
See map:
Google Maps
Services
Industrial Rehabilitation
We have a strong staffing of industrial specialists that offer unparalleled preventative programs and remarkable care for those suffering from work-related injuries.
Physical Therapy + Sports Rehabilitation
We have advanced capabilities in orthopedic manual therapy, strength and conditioning, and rehabilitation.
Golf Rehabilitation + Performance
ApexNetwork Physical Therapy has clinicians trained in golf-specific injury assessment and rehabilitation techniques to help you become the best golfer you can be. Our customized program looks at how golf injuries develop, how to assess and treat injuries that may already exist and correct specific physical limitations in order to improve performance.
This ApexNetwork location is independently owned and operated.