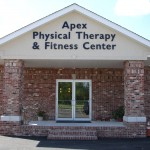 Address
4017 State Route 159, Ste. 102
Smithton, IL 62285
Phone: 618-222-8155
Fax: 618-222-8156
Early and late appointments available.
See map:
Google Maps
Services
Fitness Centers
To reach one's full health potential, one needs to keep their body in sound shape. That's why at ApexNetwork Physical Therapy, we offer state-of-the-art fitness centers for our patients to use. 24 hour access.
Hand Therapy
We understand the importance of your hands and the relevance of the role that they play in your everyday life.
Industrial Rehabilitation
We have a strong staffing of industrial specialists that offer unparalleled preventative programs and remarkable care for those suffering from work-related injuries.
Manual Therapy
Our therapists are trained in a variety of manual therapy techniques that assist with the healing process, and many of them hold specialty certification in manual therapy. When performed correctly, the addition of manual therapy techniques can have a significant impact on your recovery process.
Physical Therapy + Sports Rehabilitation
We have advanced capabilities in orthopedic manual therapy, strength and conditioning, and rehabilitation.
Vestibular Rehabilitation
We offer the full spectrum of Vestibular Rehabilitation including Fall Prevention, Specialized Treatment and Baseline Testing Programs.