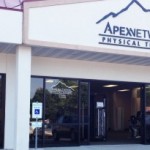 1317 E. Republic Road
Suite A
Springfield MO 65804
Phone: 417-881-9333
Fax: 417-881-9334
Email: springfieldmo@apexnetworkpt.com
Services
Physical Therapy
Therapists can treat a wide range of clinical diagnoses affecting the back, neck, shoulder, elbow, wrist, hand, hip, knee, ankle and foot. This may include diagnoses encompassing soft tissue, muscles, joints, bone, and neurological problems. Treatment methods include orthopedic manual therapy, strength and conditioning, and functional rehabilitation.
Sports Rehab
Designed to get the athlete back in the game, our Sports Rehab programs are geared at improving range of motion, strength and functional abilities. This program also focuses on sport-specific exercises that will help athletes excel in whatever sports they play.
Vestibular (Balance) Rehab
Therapy for those having problems related to dizziness and balance difficulties. Treatments may involve manual techniques and exercise-based therapy to directly impact the vestibular balance system, as well as functional activity exercises to improve balance control and reduce fall risk. More advance evaluation with our VNG system may be recommended for patients having issues with dizziness and balance.
Hand Therapy
Hand therapy programs include wound care, edema control, custom splinting, scar management, desensitization, early range of motion, soft tissue and joint mobilization, strengthening and restoring functional use of the limb.
Industrial Rehabilitation
Built to meet the needs of the workplace, the Apex Comprehensive Occupational Management and Prevention (ACOMP) is a full-spectrum industrial strength program that takes a revolutionary approach to workers' compensation claims. With ACOMP, every aspect can be addressed from prevention to injury resolution.
Work Hardening
This program takes conditioning a step further by using a specific progression of work-related tasks to improve functional capabilities. These sessions can last up to 4-8 hours a day, 3-5 days a week, the worker is taken through a series of progressively more demanding work-related activities with the goal of return to full duty.
Pre-Employment Testing
Use of objective testing and ADA-compliant protocols to assure that a worker can perform the essential job functions of a given job. If the worker has pre-existing conditions or is not fit to perform the work, the employer will be notified. This can effectively reduce both fraudulent claims and the incidence of workplace injuries.
FREE Injury Screenings
Take advantage of a free injury screen to see if our physical therapy services can help. If you have an ache or pain that has been bothering you or an injury that just isn't getting better, our skilled therapists at ApexNetwork Physical Therapy can get you back on the road to recovery.