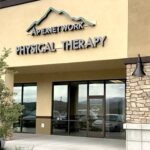 Address
13370 East Mary Ann Cleveland Way Suite 130
Vail, AZ 85641
Phone: 520-689-7144
Fax: 520-689-7144
Email: vailaz@apexnetworkpt.com
See map:
Google Maps
Services
Physical Therapy + Sports Rehabilitation
We have advanced capabilities in orthopedic manual therapy, strength and conditioning, and rehabilitation.
Industrial Rehabilitation + Manual Therapy
We have a strong staffing of industrial specialists that offer unparalleled preventative programs and remarkable care for those suffering from work-related injuries. Specializing in workers compensation.
Hand Therapy
We understand the importance of your hands and the relevance of the role that they play in your everyday life. That's why we've hired experienced hand therapists who offer thorough rehab services to maximize your healing.
Vestibular Rehab
We offer the full spectrum of Vestibular Rehabilitation including fall prevention, specialized treatment and baseline testing programs.
Pelvic Health
Pelvic Health issues cover a wide range of symptom. Our pelvic health physical therapists are board certified, highly specialized and have additional training in treating a variety of pelvic health diagnoses.
Bike Fitting
Individualized bicycle fitting accessing your body on and off the bike to provide a complete analysis of your needs.