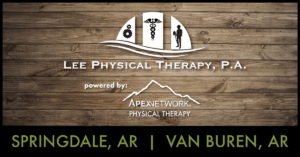 Lee Physical Therapy of Springdale, AR and Van Buren, AR has partnered with ApexNetwork Physical Therapy, an award winning outpatient rehabilitation provider with over 60 clinics nationwide. Both clinics will now accept Medicare and most major commercial insurance.
Jon Lee, PT, CWCE is a lifelong resident of Arkansas who has been providing outpatient orthopedic physical therapy in Northwest Arkansas for over 20 years. Jon has a strong interest in injury prevention, ergonomic assessments, patient and employer education and manual therapy. He will continue acting as owner and clinic manager of both clinics. Jon Lee emphasized, "I'm excited to partner with ApexNetwork Physical Therapy to assist us in expanding our business to now include patients with Medicare and commercial insurance. Lee Physical Therapy has successfully provided quality, personalized physical therapy services to Worker's Compensation clients for many years. Partnering with a group such as ApexNetwork Physical Therapy who is committed to providing top-notch, individualized physical therapy, is a natural fit and I'm excited about the opportunities that lie ahead!"
ApexNetwork Physical Therapy strives to provide the highest quality physical therapy; assisting people of all ages and occupations to achieve their goals, perform at their highest level, and excel in health. The Springdale and Van Buren clinics will now offer full spectrum of services including physical therapy, sports rehabilitation, industrial rehabilitation and manual therapy specializing in workers compensation.
If you are a patient, employer, physician, case manager, or insurance company, ApexNetwork invites you to stop by for a visit. For more information or to schedule an appointment at either location please reference the following or visit www.apexnetworkpt.com.
ApexNetwork Physical Therapy
4001 Wagon Wheel Rd
Springdale, AR 72762
479-725-3072
springdalear@apexnetworkpt.com
ApexNetwork Physical Therapy
2010 Chestnut St.
Van Buren, AR 72956
479-262-2724
springdalear@apexnetworkpt.com