"Everyone there is incredible! Chris has a magical way of making the experience so fun for my daughter while still making sure to provide the customized PT she needs. I am now a true believer in PT because Chris has been so effective. My daughter is almost done with her round of appointments and is already sad about having to leave her new "friends" when she is done."
Kim H.
"Had a wonderful experience thanks to the terrific PT Jeanette G. She was extremely knowledgeable in her field with terrific descriptions on how to do each exercise…plus gave me print outs with additional notes for me to take home. She is a one lady gig that was amazingly doing it all & great at multi tasking … even checking new patients in when no one was at the front desk. Her expertise was amazing and highly recommended & respected among my Ortho MD & other MD's throughout the STL area. So lucky to have found her & will follow her where ever she goes. Thanks Jeanette!"
Janet L..
"This is my first time doing physical therapy and I must say the ladies here are awesome!!! The atmosphere is very relaxing and clean. I must say if I have to do surgery and therapy again Apex on Brentwood is where I'm going! Thanks ladies for all your help."
Toshiba M..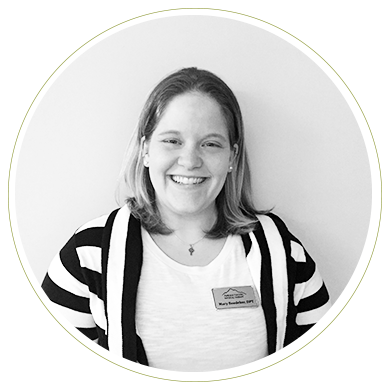 MEET YOUR PHYSICAL THERAPIST,
Mary Boedeker, PT, DPT, Clinic Manager
Mary Boedeker, PT, DPT earned her Masters and Doctorate of Physical Therapy from St. Louis University. She is trained in the Graston Technique and has experience in multiple areas of therapy including neuro/stroke, cancer treatment, orthopedic, and cardiac.
WE ACCEPT MOST MAJOR INSURANCES
Please call your ApexNetwork clinic to confirm your insurance benefits.