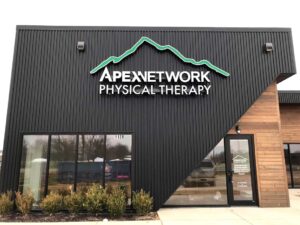 Centerton, AR – Nov. 19, 2018 – ApexNetwork Physical Therapy is expanding! Our newest clinic is set to open November 26, 2018, in Centerton, AR. The clinic is located at 1128 East Centerton Boulevard, Centerton, AR 72719.
ApexNetwork has hired on Anne Cope, PT, DPT, OCS as the Clinic Manager at the new Centerton clinic. Anne graduated from Maryville University, St. Louis, MO. She is board certified in Orthopedics and is skilled in the care of post-operative breast cancer management. Anne's clinical focus is hands-on manual therapy techniques.
ApexNetwork Physical Therapy strives to provide an experience of health & wellness, encouragement and quality service in an upscale environment. The Centerton clinic will offer a full spectrum of services including physical therapy, sports rehabilitation, industrial rehabilitation, manual therapy, and vestibular rehabilitation.
If you are a patient, employer, physician, case manager, or insurance company, ApexNetwork invites you to stop by for a visit. For more information or to schedule an appointment please reference the following or visit www.apexnetworkpt.com.
ApexNetwork Physical Therapy
1128 East Centerton Boulevard
Centerton, AR 72719
p: 479-464-3548
CentertonAR@apexnetworkpt.com